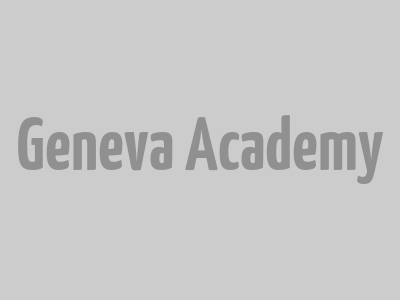 The Executive Master - Master of Advanced Studies (MAS: Maîtrise universitaire d'études avancées, 60 ECTS credits) in International Law in Armed Conflict - is delivered jointly by the Graduate Institute of International and Development Studies and the University of Geneva.
Our programme will enable you to:
Acquire specialized knowledge regarding the legal framework applicable to armed conflicts, including the protection of human rights in armed conflict.
Develop legal skills and enhance your appreciation of the options and strategies available with regard to the protection of individuals and persecuted groups in times of armed violence.
Overview
Duration: Classes take place from the beginning of October 2015 to the end of May 2016. The thesis must be submitted by February 2016. Upon specific and motivated request, certain courses can be followed over two academic years (2015/16 and 2016/17)
Language of instruction: English
Schedule: twice a week, on Thursday evenings (18:00-20:30) and Friday afternoons (15:30-20:45)
Number of places available: approximately twenty
Venue: Villa Moynier (Geneva Academy) and occasionally Villa Barton 
Degree: Executive Master/Diploma of Advanced Studies in International Law in Armed Conflict (60 ECTS credits)

Please

click here

to download the 2015-2016 schedule- first semester-

Please

click here

to download the 2015-2016 schedule- second semester-
Curriculum
Courses
The Executive Master covers four subjects grouped into four modules: Public International Law, International Humanitarian Law, International  Criminal Law, and Human Rights in Armed Conflict. Each module consists of three to four courses, which, in turn, comprise five classes. Participants are required to complete a course evaluation at the end of each course. Final exams are administered at the end of the academic year, and cover the material of the four modules. Classes are complemented by tutorials held by teaching assistants.
 
Sources and Subjects of Public International Law
From Use of Force to  Responsibility to Protect
Sanctions in Public International Law
2) International Humanitarian Law (IHL)
Basic Principles of IHL and the Conduct of Hostilities in International Armed Conflicts
Protection of Persons and Property in International Armed Conflicts
The Law of Non-International Armed Conflicts and Other Contested Issues
Classification of Armed Conflicts
3) Human Rights in Armed Conflict
International Refugee Law
The Interplay between International Humanitarian Law and Human Rights
Selected Issues of protection during Armed Conflict and Disaster
Criminal Repression of International Crimes
The Repression of Terrorism : Issues and Debates
The International Criminal Court
Research Paper
Participants are required to write a Master's thesis under the supervision of a member of the Academy's faculty. A class on research skills will help participants to research and write their thesis. Participants are required to orally defend their thesis.
Extracurricular Activities
The programme is complemented by conferences, workshops, seminars, and other key events organized throughout the year by the Academy.