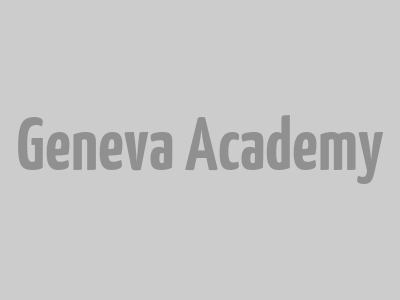 Geneva is a global focal point for the teaching and practice of International Humanitarian Law and Human Rights, and more generally with legal problems related to armed conflicts. Through its training and executive education programmes, the Academy seeks to contribute to the productive development of all legal aspects related to international law in armed conflict and other emergencies as well as to foster a thriving community of academics and practitioners. In this setting, the various types of training and executive education programmes of the Academy  are specifically tailored to the practical needs of professionals needing to refer to the different branches of international law in armed conflict and emergency situations such as NGO staff, diplomats, academics and other experts and professionals working in the humanitarian and human rights fields.
 
The Academy's programmes are shaped in in several teaching formats and with varying degrees of specialization and coverage.
 
The Executive Master in International Law in Armed Conflict is an extensive programme composed of 60 ECTS credits, and recognized as part of higher education in the pan-European system. The Executive Master is designed to enable participants to apply such specialized knowledge with regard to their professional work, which may relate to issues of armed conflict or transnational justice legal  issues. The programme has been organized so that classes are held on Friday afternoons thus allowing participants to take the course while continuing their working commitments during the week.
Professional trainings include specialized training modules, workshops and courses, which are shorter teaching formats enabling participants to acquire in-depth knowledge of specific areas over several days or few weeks. The training modules and workshops cover a range of specific topics.