Highlights
Launching of the World's First International Weapons Law Course

The world's first International Weapons Law Course was successfully launched last week at the Geneva Academy. The aim of the course is to instil participants with a detailed understanding of international weapons law: police use of force for law enforcement, use of weapons as a means or method of warfare, disarmament, and small arms control.
The first module held last week (4-8 August), which addressed the law of law enforcement, welcomed participants from Brazil, Colombia, Oman, Spain, and Switzerland witha range of expertise including civil society, states, and academia. This week, Module 2 on the law of armed conflict is also being followed by participants from Italy, Japan, the Netherlands, and Trinidad and Tobago.
During the four modules, course participants will work with a wide variety of members of academia and senior professionals from international organisations and NGOs. In addition to staff from the Geneva Academy, former police officers, and experts on robotics, biological and chemical weapons, and others will provide tuition.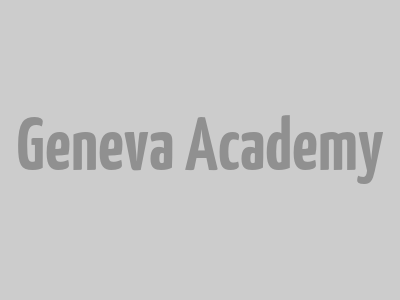 Further information about the programme
 
 

The Geneva Academy welcomes Professor Robert Roth as the new Director

Professor Robert Roth has been appointed as Director of the Geneva Academy, as of 1 August 2014. A renowned scholar on international criminal justice Professor Roth has been dean of the Law Faculty of the University of Geneva and, in this capacity, was intensively involved in the creation of the Academy, before being called to become Presiding Judge of the Trial Chamber of the Special Tribunal for Lebanon, a position that he left in September 2013.Professor Roth will replace Professors Paola Gaeta and Andrew Clapham, who are stepping down as directors of the Academy after many years of dedicated leadership.
 
 

New

Training on the Rights of Peasants


Deadline for applications requiring visa: 7 September
Deadline for applications not requiring visa: 19 October

This training will provide participants with a broad understanding of the rights of peasants and other people working in rural areas and in-depth knowledge on how to promote these rights in their work.
 

Training on Understanding Economic, Social and Cultural Rights (17 - 21 November 2014

)

Deadline for applications:
17 September 2014: Applicants requiring visas to enter Switzerland
7 November 2014: Applicants who do not require visas to enter Switzerland

This training will provide human rights advocates, staff of non-governmental organizations (NGOs) and national human rights institutions, representatives of governments, and staff of UN bodies and other international organizations, as well as members of the academia, with a broad understanding of economic, social and cultural rights (ESC rights), and in-depth knowledge on how to promote ESC rights in their work.
 

Apply Now - Executive Master in International Law in Armed Conflict

The enrolment process is now open for the Academy's Executive Master in Armed Conflict, which offers a unique opportunity to acquire in-depth knowledge in specific areas of International Law in Armed Conflict. Drawing on the expertise of the Academy's specialized staff as well as experts from the International Committee of the Red Cross and other Geneva based non-governmental organizations, the training modules are specifically tailored to meet the practical needs of professionals. These factors make the Academy's Specialized Training Modules a highly valued and internationally respected qualification.
| | | |
| --- | --- | --- |
|   |   | Biking from Geneva to Solferino, fundraising and helping a future student of the Geneva Academy |