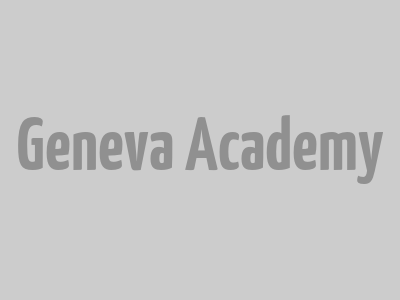 The Geneva Academy's LL.M. in International Humanitarian Law and Human Rights provides students with a unique opportunity to follow advanced courses and seminars in all branches of international law applicable to situations of armed conflict and to grasp fully the interplay between them.

The faculty consists of renowned professors and lectures, recognized for their expertise in one of the branches of international law covered in the Master's programme. In addition, experts and professionals are invited to teach short modules and to deliver lectures.

The 12-month programme, in English, includes core courses, optional courses, opportunities for professional experiences, the writing of a LL.M paper. An optional course may be given in French in the 2016-2017 academic year.
| | | |
| --- | --- | --- |
| » |   | Core Courses cover all branches of international law applicable to armed conflicts: Public International Law International Humanitarian Law, International Human Rights Law, International Refugee Law and International Criminal Law. These courses are taught in English. They are completed by tutorials given both in English and in French by the Academy's teaching assistants. |
| » |   | Optional courses cover issues such as the rules governing the conduct of hostilities, the protection of children in armed conflicts, forced disappearances or the activity of international criminal courts and tribunals. |
| » |   | Professionalizing Activities : During the spring semester, as an alternative to optional courses, students can acquire first-hand professional experience of working in Geneva-based international organizations and NGOs.  The partnerships which the Geneva Academy has developed with key actors in the humanitarian and human rights field, including the ICRC, UNICEF and OHCHR, give the LL.M. a unique professional dimension. |
| » |   | A LL.M. paper, either in English or in French, in one of the subject matters of the programme. The best LL.M. paper is awarded the Geneva Academy Best LL.M. paper Prize and the paper which best reflects Henry Dunant's vision is awarded the Henry Dunant Prize. |