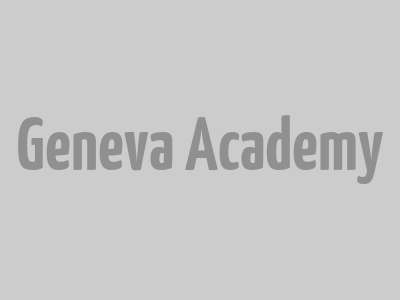 Patryk Labuda
Teaching Assistant to Prof. Schabas and Prof. Distefano
Patryk Labuda is a Ph.D. candidate at the Graduate Institute of International and Development Studies (IHEID). His dissertation focuses on international criminal tribunals and domestic judicial reform. Patryk is a Teaching Assistant in the LL.M. and Executive Master programmes:
- Professor William Schabas, The Law and Practice of the International Criminal Court
- Professor Giovanni Distefano, Sources and Subjects of Public International Law

Prior to joining the Academy, Patryk worked in the Democratic Republic of Congo, Sudan and South Sudan. As a Research Fellow at the Max Planck Institute for Comparative Public Law and International Law (currently the Max Planck Foundation for International Peace and the Rule of Law), he trained and advised government officials from the Ministry of Justice of Sudan, the Sudanese Bar Union and both houses of Parliament in South Sudan. As a Civilian Justice Expert at the European Union's Police Mission in the DRC, he worked on domestic judicial reform and security sector reform with the Congolese Police, the Ministry of Justice and the Congolese National Assembly (lower chamber of Parliament). Before that he was a Legal Advisor to the Council of Bars and Law Societies of Europe.

Patryk holds an LL.M. from Columbia Law School in New York, a Certificate of Transnational Law from the University of Geneva, and degrees in law (five-year Magister iuris) and history (B.A.) from Adam Mickiewicz University. Patryk's research focuses on international criminal law, transitional justice, peacekeeping, comparative constitution-building and legal history.
Twitter: https://twitter.com/pilabuda
E-mail: patryk.labuda[at]geneva-academy.ch
Direct line: +41 22 908 44 84
Website: https://www.linkedin.com/pub/patryk-i-labuda/
Website: http://adh-geneva.academia.edu/PatrykILabuda

Publications
---
Articles and Book Chapters:
The Special Criminal Court in the Central African Republic: Failure or Vindication of Complementarity? (under review)
Complementarity and Cooperation in the Congo, in: Nuremberg Principles 70 Years Later: Contemporary Challenges, ed. Ron Slye, 2017 (forthcoming)
Trying Sitting Heads of State: The African Union vs. the ICC in the Al-Bashir and Kenyatta Cases, in: Ademola Abass, Ilias Bantekas, Charles Jalloh (eds), Africa and the International Criminal Court, Oxford University Press, 2017 (forthcoming, co-authored with Paola Gaeta) (peer-reviewed)
The ICC in the Democratic Republic of Congo: A Decade of Partnership and Antagonism, in: Kamari Clarke, Abel S. Knottnerus, Eefje de Volder (eds), Africa and the ICC: Realities and Perceptions, Cambridge: Cambridge University Press, 2016, p. 277-300 (peer-reviewed)
Applying and Misapplying the Rome Statute in the Democratic Republic of Congo, in: Contested Justice: The Politics and Practice of International Criminal Court Interventions, Christian de Vos, Sara Kendall, Carsten Stahn (eds), Cambridge University Press, 2015, p. 408-431 (peer-reviewed)
The Lieber Code, Retaliation and the Origins of International Criminal Law, in: Morten Bergsmo, Cheah Win Lui, Yi Ping (eds), The Historical Origins of International Criminal Law, vol. 3, Torkel Opsahl Academic Epublisher, 2015, p. 299-341 (peer-reviewed)
Lieber Code, in: Max Planck Encyclopedia of Public International Law, Rüdiger Wolfrum (ed.), Oxford University Press, 2014 (peer-reviewed)
Peacekeeping and Peace Enforcement, in: Max Planck Encyclopedia of Public International Law, Rüdiger Wolfrum (ed), Oxford University Press, 2014 (peer-reviewed)
The International Criminal Court and Perceptions of Sovereignty, Colonialism and Pan-Africanism, in: African Yearbook of International Law, 2013-2014, p. 289-320 (peer-reviewed)
Racial Reconciliation in Mississippi. An Evaluation of the Proposal to Establish a Mississippi Truth and Reconciliation Commission, in: Harvard Journal on Racial and Ethnic Justice, Vol. 27, 2011, p. 1-48
The Problem of Race Discrimination in Housing from a Comparative Perspective. American and French Law, in: Columbia Journal of European Law Online, Vol. 15, Issue 2, 2009, p. 47-53
Book Reviews and Commentary:
Conferences and Talks:
Africa Group for Justice and Accountability, Second Annual Conference, Arusha, Tanzania, 18-19 October 2016 (moderator)
Efektywność MTK w Afryce: komplementarność a walka ze zbrodniami międzynarodowymi w Republice Środkowoafrykańskiej, Kenii i Demokratycznej Republice Konga' (How Effective is the ICC? Complementarity and the Fight against Impunity in the Central African Republic, Kenya and the Democratic Republic of Congo), Międzynarodowy Trybunał Karny. Teoria. Praktyka. Wyzwania (ICC. Theory, Practice, Challenges), Jagiellonian University, Cracow, Poland, 14-15 October 2016
Africa Goup for Justice and Accountability, "Pourquoi une Cour pénale spéciale? Contexte, défis et perspectives", Alliance Française, Bangui, Central African Republic, 22 September 2016 (moderator)
Africa Group for Justice and Accountability. African Justice Mechanisms and their Interplay with the International Criminal Court, University of Cape Town, Cape Town, South Africa, 22-24 March 2016 (moderator for two panels: 'African courts and international crimes divisions' and 'Immunities of heads of state under international law')
'How Effective is the ICC? The Politics of Complementarity in Africa', The International Criminal Court and Africa, Ghana Institute for Management and Public Administration Law Conferences, Accra, Ghana, 17-18 March 2016
'UN Peacekeeping Doctrine and Protection of Civilian Sites in South Sudan: A Legal Vacuum?', Changing Crises and the Quest for Adequate Solutions, World Conference on Humanitarian Studies, Addis Ababa, Ethiopia, 5-8 March 2016
'How Effective is the ICC? Cooperation and Complementarity in the Congo', The Nuremberg Principles 70 Years Later: Contemporary Challenges, International Nuremberg Principles Academy, Nuremberg, Germany, 20-21 November 2015
'The International Criminal Court and Palestine. Assessing Impact at the National Level' (1 July 2015), Ph.D. Summer School on EU Foreign Policy, co-organised by College of Europe, Ben Gurion University and Konrad Adenaeur Stiftung, Warsaw, Poland (week 1), Be'er Sheva, Israel and Ramallah, Palestine (week 2), 22 June - 5 July 2015
'International Criminal Justice as a Form of Global Justice' (6 May 2015), 'Apprendre à repenser le droit international', Fourth Annual Masterclass with Professor Emmanuel Tourme-Jouanne (coordinated by Professors Anne Peters and Armin von Bogdandy), Max Planck Institute for Comparative Public Law and International Law, Heidelberg, 4-6 May 2015
'Obligations and Accountability of Non-State Actors in the Central African Republic', Geneva Academy Wednesdays, Geneva Academy of International Humanitarian Law and Human Rights, Geneva, Switzerland, 22 April 2015 (together with Tilman Rodenhäuser)
'International Criminal Justice and Domestic Judicial Reform in Central Africa', African Courts: Actors, Institutional Developments and Governance, Workshop funded by Deutsche Forschungs Gruppe and Point Sud, Niamey, Niger, 4-10 December 2014
'The Lieber Code, Retaliation and the Origins of International Criminal Law', The Historical Origins of International Criminal Law, Forum for International Criminal and Humanitarian Law, New Delhi, India, 28-29 November 2014
'The ICC in the DRC: A Decade of Partnership and Antagonism,' Africans and Hague Justice: Realities and Perceptions of the International Criminal Court in Africa, The Hague University of Applied Sciences, The Hague, Netherlands, 23-24 May 2014
'Critical Studies of International Law', Third Annual Masterclass with Professor Martti Koskenniemi (coordinated by Professors Anne Peters and Armin von Bogdandy), Max Planck Institute for Comparative Public Law and International Law, Heidelberg, 29 April – 2 May 2014 (admitted as participant)
'The International Criminal Court and Perceptions of Sovereignty and Colonialism in Africa,' Young Scholars Workshop on International Law, XI Edition, Africa 2013: Was There Something Missed in the Decolonization Process? The International Law Perspective, Trento, Italy, 6-7 December 2013
'The United Nations' New Intervention Brigade in the Democratic Republic of Congo – Testing the Limits of Peacekeeping', Weekly Institutional Seminar, Max Planck Institute, Heidelberg, Germany, 20 June 2013
'Les immunités en droit international public et privé,' Seminar for Advanced Studies in Private and Public International Law for Professionals (9th session), The Hague Academy of International Law, Hague, Netherlands, 13-19 January 2013 (admitted as participant)
'Between Retaliation and Reconciliation: DR Congo's Winding Path to Post-Conflict Justice,' Workshop of the Max Planck Research School on Retaliation, Mediation and Punishment, Heidelberg, Germany, 18 December 2012
'Human Rights, the International Criminal Court and Perceptions of Sovereignty and Neo-Colonialism in Africa,' Contested Histories of Human Rights, 2nd Spring Human Rights Symposium, University of California-Davis Human Rights Initiative, Davis, California, 9 March 2012
'La réforme de la justice en vue de la consolidation de la paix et de la démocratie en RDC,' Journée Mondiale des Casques Bleus des Nations Unies, 50th Anniversary of Death of UN Secretary-General Dag Hammerskjold's and the Responsibility to Protect, Kinshasa, Dem. Rep. of Congo, 28 May 2011
'Applying and misapplying the Rome Statute to domestic law in the Democratic Republic of Congo,' Post-Conflict Justice and 'Local Ownership': Assessing the Impact of the International Criminal Court, Leiden University, The Hague, Netherlands, 6 May 2011
'Why do Truth Commissions Fail? The case of the Democratic Republic of Congo,' 2nd Biennial War Crimes Conference: Justice? – Whose Justice? Punishment, Mediation or Reconciliation?, Institute of Advanced Legal Studies, University of London, London, United Kingdom, 4 March 2011
'The Concept of Truth in the Context of a Truth Commission: the Mississippi Truth Project,' 29th Annual Conference of the Australian and New Zealand Law and History Society: Owning the Past. Whose Past? Whose Present?, Melbourne, Australia, 14 December 2010