---
Graduation Speech by Mohammad Sesay, LL.M student 13-14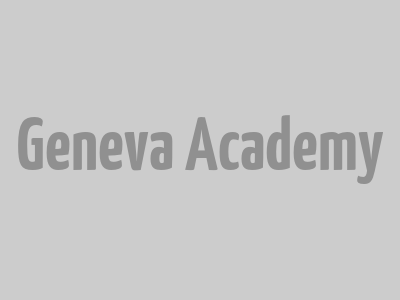 Good evening,
I am honored to be here this evening, given the distinguished task of trying to speak on behalf a class most marked by its diversity. 
On one issue, I feel confident in speaking for all in our class: that being a student of the Geneva Academy has been an opportunity, a privilege and a challenge in equal measure. 
We have been privileged to have been taught by a faculty of esteemed professors whose experience and learning are paralleled only by their genuine desire to share with this students, whom they treated as equals and they were always eager to engage in discussion
Academically no one can deny that they have learnt a lot throughout the last year.  The breadth of subjects on offer is undoubtedly one of the strengths of the program, all respectively fascinating. I am now of the opinion, (and I know I am not alone in this regard) that while technical, there are definitely some sexy topics in International Law.
We all relied heavily on the Teaching assistants for providing a crucial link between the professors and students and were always available.
I personally found some concepts and issues, almost incomprehensible until broken down by them in the tutorials.
There were certainly various points during the course of the year where if you were cross someone in the class they would have had worn an expression -- I don't have words which I feel can satisfactorily describe that look but I'm sure that if you have ever been a student you instinctively know it. This is understandable when you consider we were challenged with balancing the pleasures of arriving, settling and adapting to the Genevois way of life around an intense course load.
For me, I think there were two things that kept me motivated throughout the course: the first was, without a doubt, the quality of my peers.  Each class and each concept was enriched by their diversity of experience, their cultural perspectives, their wisdom and their humor.  I know that we have forged ever-living memories and friendships that transcend national borders. 
The second motivator was the knowledge that every single individual I encountered in the context of the Academy – from the administrators to the most learned of scholars – share a commitment for improving the world around them.
I was reading an article recently and a phrase which resonated with me as encapsulating the spirit of the Academy:
Those who love peace and order must learn to mobilize as effectively as those who love war.
This is extremely important when you consider the state of affairs currently.  If you follow the news you bound to hear about the latest actions of ISIS, the Ebola epidemic/pandemic, , the Israel Palestinian conflict notwithstanding other on-going conflicts, and these are just are a few examples there is a lot more going on.
Even in the UK where there is strong consideration to leave the European Convention of Human Rights.
It is easy to get the sense that we are failing to uphold rights that are supposedly universal, or to promote concepts of equality, the rule of law and development.  
But all of us here strive with a passion to take this obligation and effect positive change.  Yes we graduate today but what of tomorrow? We shouldn't limit our aspirations to getting a decent job. We want to be champions in the fight for human rights and a better world.  With true commitment and devotion to a cause, as I have witnessed amongst my classmates and faculty of the Academy, you forgive me the cliché of saying that I believe maybe anything is possible.
To those who are skeptical about the difference one person can make, I say to you that history as we know it has largely been shaped by the sheer will and actions of individuals (both positively and negatively) and I fully believe there are many in this room with the potential to do the same.
We have a tendency to focus on the great achievements of the past whilst neglecting what we can do in the present or future. In 50 years time in addition to the Prix Henry Dunant, I would like to see a prize named after one of the students graduating today. When all of this is over it is a source of positive inspiration to know that we continue to be united by the same objectives even as we disperse to various corners of the globe.
Therefore, it is with great pride that I stand with you all today to receive our masters in International Humanitarian and Human Rights law.  It is undisputedly an accomplishment.  Both the certification, and the experiences and connections that have been built along with it, are certainly resources we will draw upon for the rest of our lives.
---
Graduation Speech by Emilie Max member of the Student Association Council
 
Ladies and gentlemen, good evening!
 
The Student Council had a whole speech prepared for this occasion. However, we have received a letter of motivation from a prospective student, which we deemed worth sharing with you tonight.
 
"Dear Directors Gaeta and Clapham,
 
I am writing to apply to the LL.M. programme of the Geneva Academy of International Humanitarian Law and Human Rights. I recently graduated from the University of Solferino, where I was born and raised. I discovered your programme through a group of students who visited my hometown last May. Upon overhearing them, I immediately became intrigued by the use of terms like "functional theory of occupation" in casual conversations, and decided to ask them for more information about the LL.M. and their experience.
 
It seems that the Academy constitutes a highly stimulating academic environment. The class discussions and the knowledge students were able to acquire is synchronized with the real world developments and made for interesting teaching sessions The students reassured me that the poet in me should not go disheartened, for even during long lectures a beautiful moon would not go unnoticed, not to mention that even law becomes more whimsical through the words of Milan Kundera. Naturally, if all the above should not suffice, there will always be the litters of coffee and the tons of Swiss chocolate. When I asked further questions about the LL.M., I was assured that I would be taught all relevant areas of international law, and constantly challenge my knowledge.
I am eager to learn from professors as outstanding as those of the Academy. Any law student dreams upon hearing the names of Bianchi, Chétail, Gaeta, Clapham or Sassòli, However, students have warned me that too much teaching and research can have some strange side effects. Professors sometimes compare Al Qaeda to KFC, become obsessed with non-state actors and polar bears or design psychedelic power point presentations. I look forward to finding out the rest myself, should you accept me into the LL.M. programme.
I am also curious to discover a revolutionary, and apparently quite successful teaching method: TAs. With their help, information given in class falls into place, becomes more structured and students' chances in their exam session are radically improved. What stroke me the most from students' accounts was how TAs always went above and beyond their job descriptions and provided emotional support, comic relief, homemade cakes and real fake diplomas when the students' fatigue and stress became too evident to conceal.
Students especially spoke about the strengthening of relationships throughout the year, and they were not referring only to that between them and librarians. They told me about ethnic dinners, where students would cook food from their home country for everyone else, and which would often end up in dancing parties. They underlined the importance of weekly barbecues during summer, without which no LL.M. thesis would have been written. They went on and on about hiking trips to the Salève, excursions to Switzerland, movie nights and lake swimming sessions. No story could convey better what I could see by my own eyes; how a group of 36 individuals, went on, within the course of a year, from being international law geeks to friends for life.
I am looking forwarding to benefiting from my fellow classmates, as much as those students did. They all brought with them to Geneva not only their incredible knowledge, but also their unique personalities. Some became parents during the year, or survived the programme while taking care of their child. Others dressed exactly like their professors in the hope that it would help their learning process. Some cooked delicious cakes, while others taught the rest how to play cards. Despite the summa divisio between vegetarians and carnivores, all appreciated and respected each other. For fear of clichés, the students did not want to use the word "family", but upon meeting them, I will. By applying to this programme, I express not greater wish but to become part of this family.
I am convinced I can immensely benefit from an LL.M. at the Academy. I also hope this bring a useful contribution to the programme and maybe, who knows, one day deliver the graduation speech.
Sincerely yours,
A hopeful student.
Speech witten by Emilie Max and Ioanna Voudouri
---