---
Background
The increased use of private actors to provide security and military services poses significant challenges to existing oversight and accountability mechanisms. These service providers offer many services relevant for the protection of and respect for human rights, whether these be military, security, contingency or intelligence services, to name a few.  As part of its ongoing efforts to promote respect for international law and standards by private service providers, the Swiss government has supported initiatives that aim to both clarify international standards for the industry, as well as to improve their oversight and accountability.
Since the "Montreux Document on pertinent international legal obligations and good practices for States related to operations of private military and security companies during armed conflict" (Montreux Document) was finalised in September 2008, it has succeeded in establishing itself as a reference text with regard to private contractors.  It has also encouraged members of the private contractor industry to reflect intensively on their role and the positive contribution they could make regarding the respect for international humanitarian law and human rights standards. Consequently, the industry embarked on a process to take standard-setting and oversight further by developing a Global Code of Conduct (CoC) for their services. To be effective, it is recognized that such an international industry standard should be based on international humanitarian and human rights law, developed through an industry-driven multi-stakeholder process, and overseen by an independent institution with sufficient means to hold those who violate the standards accountable.
After a series of workshops with different stakeholders culminating in a Wilton Park Conference in June 2009, substantial agreement was reached on the need for, and general structure of an international CoC. Representatives of the industry and their associations concluded the conference with a public statement expressing their commitment to pursue and develop an international code of conduct. Following this commitment, a draft of the first section of the CoC was developed through the collaboration of members of the private security industry along with the Swiss Department of Foreign Affairs, the Geneva Centre for the Democratic Control of Armed Forces (DCAF) and the Geneva Academy of International Humanitarian Law and Human Rights (ADH) and released for public comment in January 2010. This draft of the first section of the CoC seeks to articulate standards for private service providers in accordance with international humanitarian law and international human rights standards. In parallel, work has already begun on the next section of the CoC: to develop the International Accountability Mechanism (IAM), including the establishment of a global institution that will provide meaningful and independent oversight of and effective accountability for the CoC.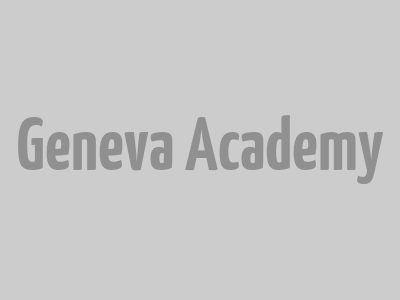 Download the latest version of the Code of Conduct Fact Sheet