Counterpiracy and Maritime Security under International Law Project
Piracy and armed robbery at sea are costing the international community billions of dollars each year. The main challenges to tackling piracy are said to be on the national level, and include the need to criminalise piracy in domestic legislation in any jurisdiction which has not yet done so, and to increase the political will to prosecute and incarcerate pirates. Obtaining and preserving evidence for possible prosecutions as well as the post-trial transfer of convicted pirates are analogous challenges. Yet, despite these acknowledged obstacles to tackling piracy, raising the necessary funds has proved difficult.
With regard to private security service providers (PSSPs) the key challenges relate to ensuring greater clarity with regard to the use of force and procedures for detention, as well as developing a coordinated response among states which addresses the movement of guns through territorial waters and the safe keeping of guns and ammunition in port. There is general agreement, however, that the solution to piracy off the coast of Somalia is to be found on land within Somalia.
Academy Briefing on Counterpiracy under International Law
Based on research conducted by the Academy team, the first of a series of Academy Briefings is being devoted to Counterpiracy under International Law. It describes the international legal framework, including the law of the sea, the use of force at sea, and relevant international human rights law, and its application to states, PSSPs, and suspected pirates. The Project is being conducted by Dr. Stuart Casey‐Maslen and Alice Priddy under the supervision of Professor Andrew Clapham.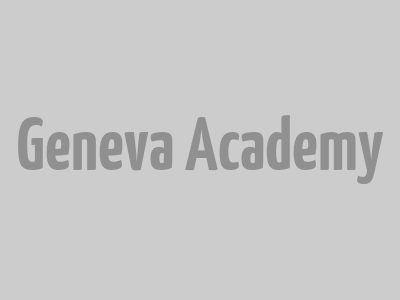 The Academy briefing on "Counterpiracy under International Law" is available here!

The Academy's work on counterpiracy is being supported by the Human Security and Migration Division of the Swiss Federal Department of Foreign Affairs.
Wilton Park Roundtable on Counterpiracy under International Law


On 30 January–1 February 2012, Wilton Park, in partnership with the Geneva Academy of International Humanitarian Law and Human Rights (the Academy) and the Geneva Centre for the Democratic Control of Armed Forces (DCAF), and with support from Switzerland, convened a roundtable of more than 40 experts to discuss the adequacy of the normative and policy framework for counterpiracy with respect to states and private security service providers. The roundtable was convened to look at legal issues relating to counterpiracy with particular reference to the situation off the coast of Somalia. The report of the roundtable, "Countering piracy: what are the rights and obligations of states and private security providers?", is available here.