The Right to Seeds in Europe
Event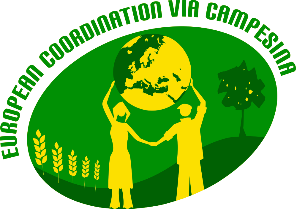 This online event – co-organized with The European Coordination Via Campesina – will discuss how UNDROP's article 19, which recognizes the right to seeds, shall be taken into account in the revision of EU rules on seeds. It aims to bring together parliamentarians, representatives of peasant organizations, seed networks, academics and experts from Europe.
In the European Union (EU) and EU Member States, seed laws and regulations have been designed with the aim to further develop the agricultural industry in the continent, and the rights of peasants have been largely neglected. Peasant seed systems and traditional knowledge have not been adequately supported. European seed diversity has suffered a drastic decay in recent decades, largely as a result of a normative framing that outlaws the marketing of peasant seeds. National seed catalogues and the EU Common Catalogue have been designed to promote industrial seeds and agriculture standards, largely excluding peasant seeds, and in a number of countries, peasant seed saving, exchange and selling have been outlawed. This has discouraged, and in some cases hindered the continuation of peasant agricultural activities.
Representatives of peasant organizations, academia and relevant public institutions will debate about the opportunity to rebalance the lack of support given to peasant seed systems in Europe, compared to the support given to industrial seed systems in recent decades.
Welcome remarks
Ramona Duminicioiu, Member, European Coordination Via Campesina
Moderator
Katherine Dolan, Head of Policy, Arche Noah
Panelists
Christophe Golay, Senior Research Fellow, Geneva Academy of International Humanitarian Law and Human Rights
Fulya Batur, Founder of Kybele
Guy Kastler, representative of the seeds WG of the European Coordination of Via Campesina
Closing remarks
Antonio Onorati, European Coordination Via Campesina
Online
This event will take place online, benefiting from interpretation in English, French and Spanish.